HIGOLDS DESIGNERS
Paolo Pininfarina
Chairman of Pininfarina

Paolo Pininfarina is Chairman of Pininfarina S.p.A. since 2008. For 30 years he was President and CEO of Pininfarina Extra S.r.l., a Group company specialized in industrial, architectural, nautical, aeronautical and furnishing design. More than 600 projects have been developed under his leadership. Moreover, Paolo has consolidated relationships with prestigious international companies such as Alenia Aermacchi, Bovet, Calligaris, Chivas Regal, Coca-Cola, Costa Coffee, Gorenje, Juventus, Lavazza, Motorola, Petronas, Samsung, Schaefer, Snaidero and Unilever.
Previously, he was Program Manager in the GM 200 Engineering program for General Motors. Paolo was also Head of Quality and Reliability in the Allanté program for Cadillac and began his career with training in Detroit, again for Cadillac, and in Japan for Honda. He holds a degree in Mechanical Engineering from the Turin Polytechnic in 1982.
In 2019 he was appointed Vice President of the Italian Historic Automotoclub (ASI), the most important national association of historic vehicle owners.
NICOLA GIROTTI
HIGOLD CHIEF DESIGNER

Nicola Girotti is Design Manager and responsible for the UI / UX teams of the Pininfarina business units dedicated to cars and other products. He leads a team of more than 20 designers working in the most diverse areas of design: aeronautics, railways, boats, products, machinery and graphics.
Previously, he was Design Manager at Motorola Solutions in Copenhagen and worked in France for Decathlon. Thanks to these very instructive experiences, he learned about different research methods and worked continuously with the company's departments to discover new market opportunities and develop future portfolio products.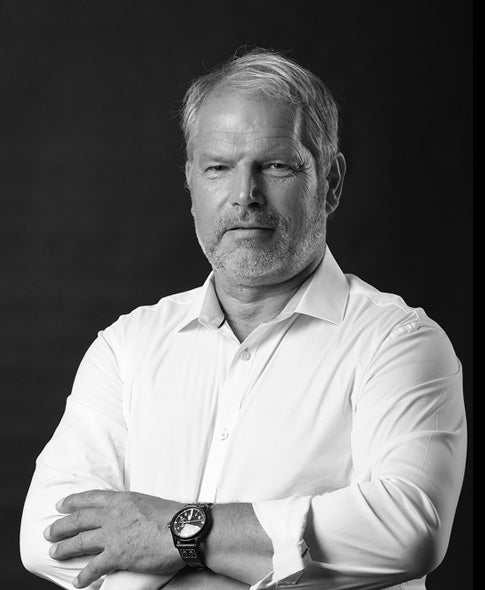 NICOLAS THOMKINS
HIGOLD CHIEF DESIGNER

Nicolas Thomkins, born in Switzerland and living in Germany, has a very large knowledge background and a strong sense of humour. He joined the Higold design team in 2014 and has completed several original designs. Among others, the Airport collection, which can be applied in both indoor and outdoor areas, has been considered the benchmark of new design trend in the furniture industry. The first application of corrugated aluminium sheets on furniture has attracted eyes and good compliments from abroad and at home.
He focuses on product details and user experience by applying ergonomics in product design. His design is a plea to nature, fulfils a positive spirit, and incorporates his understanding of life and the pursuit of health. He dares to break the rules and touch the soul. His works continue to lead the creative trend in the outdoor furniture industry. Nicolas' Yin Yang chair, a fusion of Chinese and Western culture, successfully caught people's attention and stood out among all the entries, winning the best of the best Red Dot Award, one of the top design awards in the world.
XIAOJIE ZHU
HIGOLD CHIEF DESIGNER
XIAOJIE, worked as a stonemason, carpenter, fitter and accountant, finally going back to be a craftsman. Meanwhile, as dean of Wenzhou Furniture College, visiting professor of CAFA and Malmstens Linköpings University (MLU), artistic director of Opal Furniture Co., Ltd, Au Ceramics and YiShang.
Furniture designer of World Expo Shanghai China Pavilion, curator of Milan Design Week and CIFF, designer of Casanova and Work.
PIERRICK TAILLARD
HIGOLD CHIEF DESIGNER
At piKs design, everyone's know-how and influences intersect, collide and mingle.
Family is their basis; meet a credo.
Christine and Pierrick, graduates from Rubika (FR. Valenciennes), together with Sylvain – specialising in marketing – have completed a Master in Entrepreneurship and Innovation Management at the IAE (France, Lille) and co-founded piKs in 2005.
Originating from industrial culture and the arts, the designers pay attention both to distant cultures and to their everyday surroundings.
As adherents of creative eclecticism, they combine craftsmanship and industrial thinking to reinvent the relationship between user and object, playing with a permanent readjustment of the repertoire of forms with elegance, simplicity and pragmatism.